Sharing the joy of small boats
The Maine Small Craft Celebration aims to share the joy and appreciation of small boats: how they can be built by anyone, enjoyed safely on the water, and used to attract the next generation to Maine's waters, our boating traditions, and the maritime professions.
The inaugural Maine Small Craft Celebration will be a 2 day event held on the shores of the Fore River in Portland, Maine. Occurring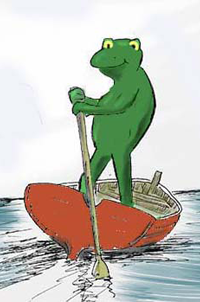 over the autumnal equinox the MSCC will provide participants an opportunity to celebrate the end of a boating season and to start dreaming and planning for next year's boat, upgrade or adventure.
Exhibitors will have small boats, sail, oar and power, on display on the water and on land. Demonstrations, workshops, and lectures will be given throughout the event focusing on building, maintaining and safely operating small boats. The most unique feature will be on the water where visitors can "Try it-Like it." Designers and builders will be there to discuss and demonstrate the features of their boats. Visitors will be able to take them for a test "drive" after learning the particulars about that craft.
Also on the water there will be boat races, easily viewed from shore, demonstrations on rigging and rowing techniques, and boat tours of Portland harbor. Back on land there will be a large exhibitor's area where maritime businesses and organizations will be able to show their wares, discuss their programs, and interact with the public. A juried boat contest, a nautical flea market and a children's marine craft area will be among the other events scheduled.
A celebration would not be complete without food and entertainment so there will be plenty of music, local food and craft beer available throughout the weekend.
If you have a business or organization that would like to participate in this celebration please contact info@SmallCraftCelebration.com for more information.